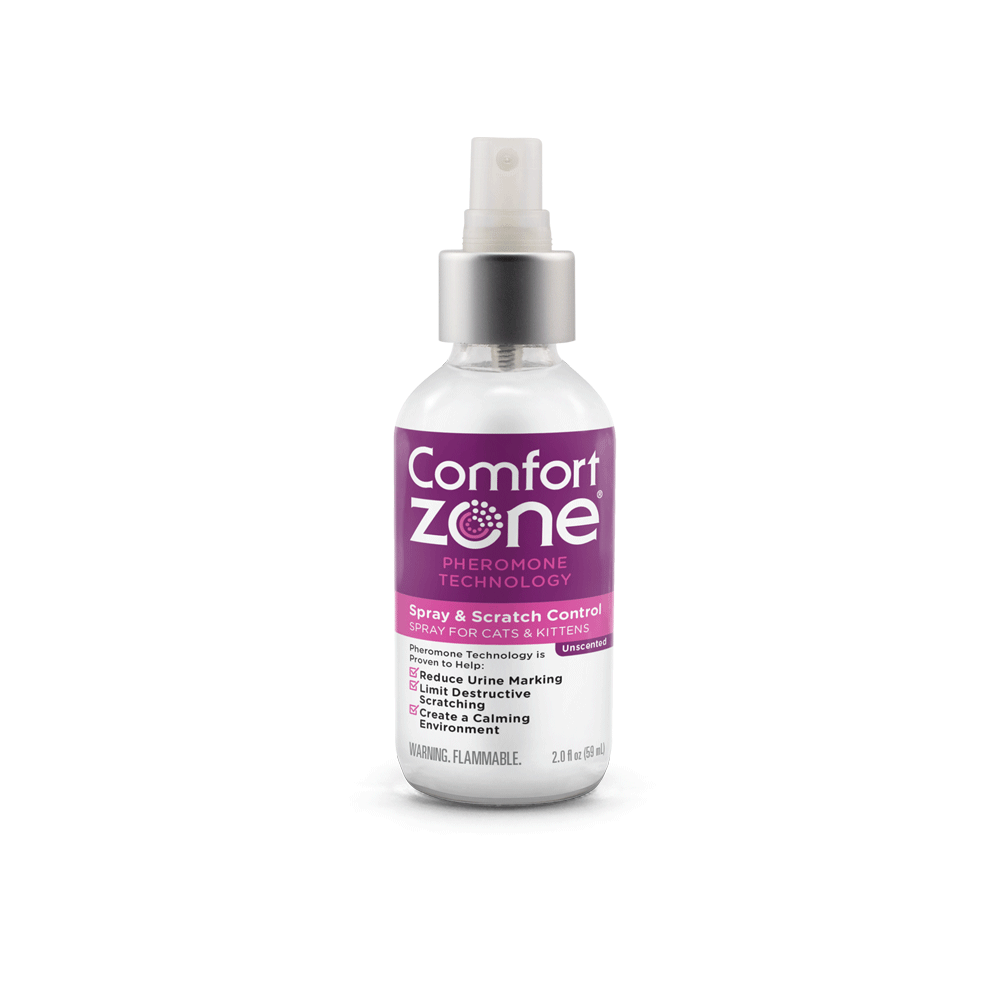 Comfort Zone Spray & Scratch Control Spray
The Comfort Zone® Spray & Scratch Control Spray uses our trusted formula to help your cat's "e-meow-tional" health. By mimicking your kitty's natural pheromones, this cat-calming spray sends signals in your cat's own language that an environment is safe and that piece of furniture your kitty marks is familiar. This can promote a sense of relaxation, helping reduce unwanted behaviors like urine marking and scratching.
Use this veterinarian-recommended solution as a spot treatment in your home, focusing on areas your cat targets, like your sofa or carpet. The Comfort Zone® Spray & Scratch Control Spray can also be used in your cat's carrier to promote a calming effect when you're visiting the veterinarian or traveling with a nervous kitty. Our cat scratching spray can be used on fabrics, upholstery, hardwood and door frames.
PROVEN FOR:
Scratching
Urine Spraying
General Stress
MAY HELP WITH:
Vet Visit Stress
Travel Stress

90-DAY MONEY BACK GUARANTEE
Instructions For Use
To reduce urine marking and limit destructive scratching on objects:
Before broadly applying the spray, always test a small inconspicuous area and let it sit for 24hrs. See our FAQ for more details.

Hold the bottle approximately four inches away from the prominent object(s) that is attractive to your cat.

Depress the spray nozzle five times onto the object(s).
Be sure to apply the product where your cat urine marks or on areas of scratching. DO NOT SPRAY DIRECTLY ON YOUR CAT.
Repeat this once per day at a minimum. If there are no fresh urine marks for any given day, then skip this step.
Tips for Use
Our calming spray can be used on the go or in the home.
Spray inside your cat's carrier about 15 minutes before leaving.
Use 1 to 2 spritzes in all four corners of the carrier, floor and ceiling.
Reapply 15 minutes before every trip.
At Home
Once a day, spray the areas where your cat scratches or marks with urine, like the side of your couch, a spot on your carpet, the corner of your bedroom or any area you've seen your cat target.
Spray the entire area your cat scratches multiple times to cover the target.
When introducing new furniture into your home, spray on the new object to help reduce urine marking and limit destructive scratching.
You may see changes in your cat's behavior in as little as two weeks, but it can take up to four weeks before you notice significant changes. For best results, use in combination with the Comfort Zone® Cat Calming Diffuser with Opticalm™ Diffuser or the Comfort Zone® Multi-Cat Diffuser with Opticalm™ Diffuser.
How to Help a Stressed Cat
Urine marking and destructive scratching are often signs of stress. After you get a clean bill of health from your vet, use the Comfort Zone® Spray & Scratch Control Spray as part of an overall stress-reduction strategy for your cats. This can include experimenting with multiple litter boxes and different kinds of litter. Give your cats a variety of vertical and horizontal scratching posts, tall cat trees and lots of playtime. These strategies, along with Comfort Zone® products, can help your kitty better manage stress and feel more confident.
ARE YOUR CATS FIGHTING OR NOT GETTING ALONG?
TRY COMFORT ZONE MULTI-CAT DIFFUSER
Plug in to create a calming environment between multiple cats to reduce multi-cat tension and conflict for up to 30 days.